Lapeer County Tea Party
Keeping the Grass Roots Growing!
NOT REPUBLICAN

/

NOT DEMOCRAT
*********AMERICAN*********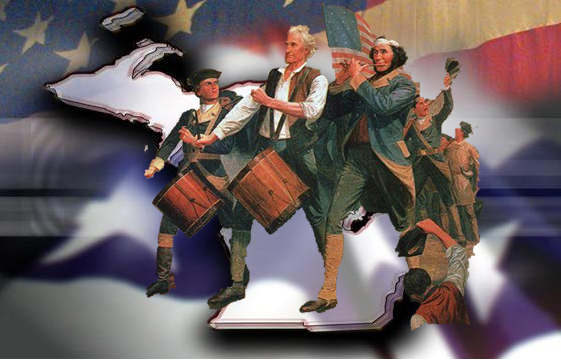 Member of the 1st Michigan Tea Party Alliance


Hot off the press!!

Garage Sale now going on!!
ANNUAL GARAGE SALE!!!
June 23rd, 24th, and 25th
Our annual garage sale fund raiser will be here soon! Please consider donating any unwanted items to the Tea Party for the event. We can also use big ticket items such as furniture, tools, yard tools, etc.
The garage sale is our primary fund raiser and all money raised will be used to fund our efforts in 2016/2017 and for the "all important" 2016 elections.
Volunteers are needed to set-up, work the event, and disassemble and pack-up the remaining merchandise, following the sale. Any amount of time will be greatly appreciated.
"Many hands make for light work"
Please contact Diane or Cindy to arrange for drop off or pick up of items or if you can volunteer any time to help.
If you cant make it during our scheduled drop off hours, pick up is available by appointment.
You must contact Diane or Cindy.
LOCATION
The Garage sale itself, and drop off location is at the SW
corner of Saginaw & James St by R.R. tracks in Lapeer.
Saturday June 18th 10AM - 3PM
Tuesday June 21st 10AM - 5PM
Wednesday June 22nd 10AM - 5PM
GARAGE SALE Days and Times
Thursday, June 23rd 9am - 6pm
Friday June 24th 9am - 6pm
Saturday June 25th 9am - 4pm
Also, due to the Garage Sale, we have rescheduled for this month only our monthly business meeting. The June monthly business meeting will be onThursday, June 30th at 7PM at the Lapeer Sportsman's Club, The address at 1213 Lake George Rd in Attica.
---
10th District Congressional Candidate Forum Hosted by the Blue Water Tea Party and the Lapeer County Tea Party Thursday, June 23rd, 6:30PM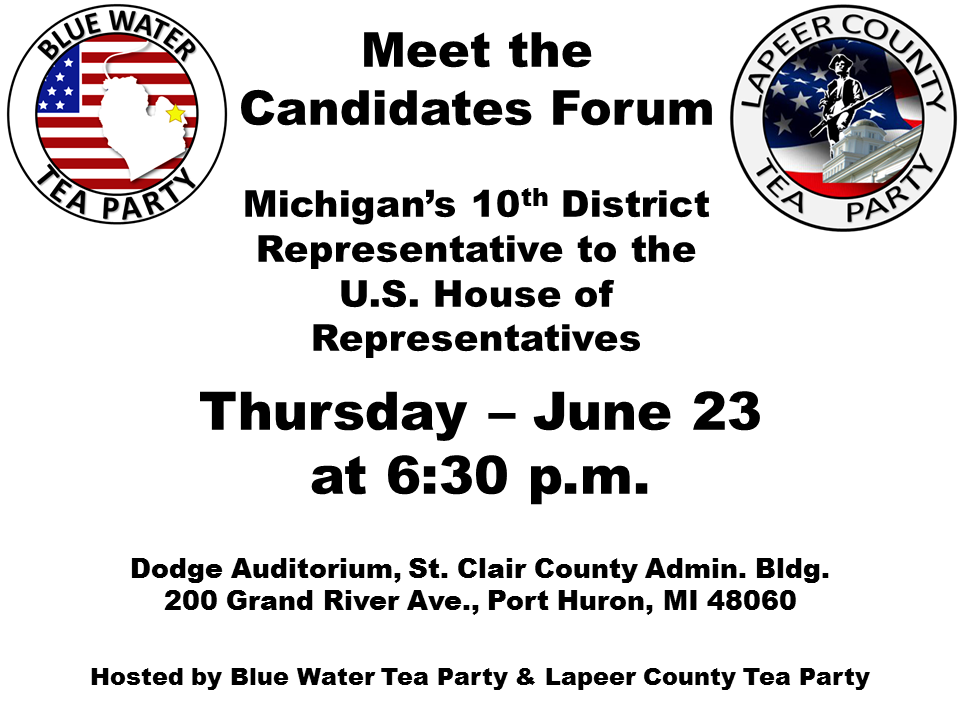 Map and Driving Directions HERE
Facebook Event Link HERE
Cant make it to Port Huron? Watch on our Livestream from 6:30-8:30 Thursday evening. If video does not show immediately, click refresh and click the watchlive link.
---
Lapeer Tea Party General Meeting June 2016 with Special Guest State Senator and 10th Congressional Candidate Phil Pavlov
---
If you missed our Lapeer County Sheriff Candidate Forum, view it in its entirety below...

Sheriff Candidate Forum from 5-3-16


If you missed our recent meeting with special guest Paul Mitchell, you can watch in its entirety. Just click the link below.
---
RECENT NEWS ITEMS
KONSCHUH CLEARED (From the 3-13 Lapeer County Press)
Howell already at work in new Lansing office (From the 3-13 Lapeer County Press)
---
Senator Patrick Colbeck was our guest for our January General Meeting
We discussed a wide range of topics including Medicaid Expansion. Click the link above to view the meeting in its entirety.
---
Want to watch other meeting videos?
Missed a meeting and would like to see more?? Go to our You Tube Channel for all of our past meetings.
Lapeer Tea Party You Tube Channel
Tune in to our meetings live online!
LAPEER COUNTY TEA PARTY USTREAM CHANNEL
---
Lapeer Patriot Blog Posts
Are you registered to vote??
Click AreYouRegistered.org and find out..
_______________________________________________________________________________
The policy of the Lapeer County Tea Party Patriots is to allow only candidates, not representatives of candidates, to speak at our meetings. Candidates will be requested to speak by agreement of the Directors in support on their stated goal of membership education. Those races and issues that are requested remain the prerogative of the Directors concerning topical subjects or candidacy. It is not felt that a representative of a candidate can relate the direct position of the person they represent and that the candidate be held directly responsible for their stated position. _______________________________________________________________________________
Mission Statement and Purpose:
The mission of the Lapeer County Tea Party Patriots is to engage citizens
and provide avenues for participation in the political process. Our goals
are to prevent wasteful spending of tax dollars, to reduce the size of
government and its bureaucracies, and to hold accountable those we elect to
represent us. This will be accomplished by attracting, informing, and
mobilizing all who share these goals, regardless of political affiliation.
This site developed and maintained by