Lapeer County Tea Party
Keeping the Grass Roots Growing!
NOT REPUBLICAN

/

NOT DEMOCRAT
*********AMERICAN*********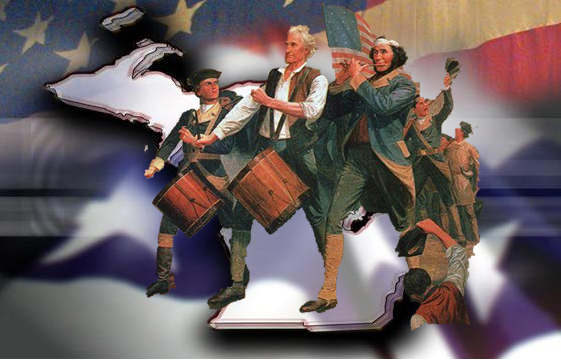 Member of the 1st Michigan Tea Party Alliance

Hot off the press!!

.
June Tea Party General Meeting with State Senator and 10th Congressional Candidate Phil Pavlov
The Lapeer County Tea Party will be holding its June general meeting on
Tuesday, June 7, 2016
@
7:00 PM
at the Mayfield Township Hall, 1900 North Saginaw St., Lapeer. Our speaker will be Michigan Senator Phil Pavlov. He previously served as our senate representative before redistricting and now serves the St Clair County area. He is back speaking to the Lapeer area voters, as a candidate for our 10th District congressional seat, being vacated by Congresswoman Candace Miller. We welcome Senator Pavlov back to the Lapeer Tea Party and look forward to hear his plans for a better country. Please join us as we listen to his message and platform for this important seat. If you haven't met Senator Pavlov this is a great opportunity to meet him. As always, we allow plenty of time for questions and answers. The primary election is getting closer and the Lapeer Tea Party works hard to keep all our voters educated and informed.
Please join us and remember that everyone is welcome and as always, there is no cost to you so bring a friend and get informed!
If you missed our Lapeer County Sheriff Candidate Forum, view it in its entirety below...

Sheriff Candidate Forum from 5-3-16


If you missed our recent meeting with special guest Paul Mitchell, you can watch in its entirety. Just click the link below.
We are once again proud to be able to offer our Danette Lowery Scholarship this year. Please read the details below: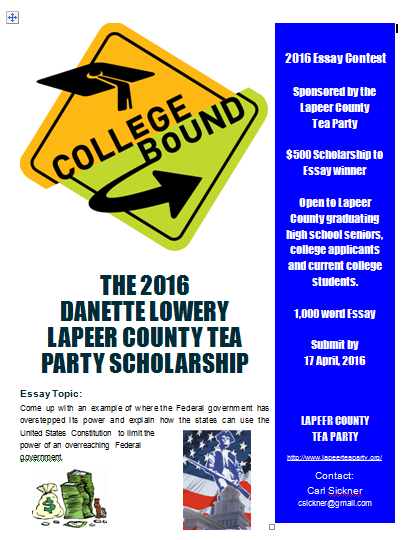 Click the HERE or the flyer above to visit our Scholarship page
---
RECENT NEWS ITEMS
KONSCHUH CLEARED (From the 3-13 Lapeer County Press)
Howell already at work in new Lansing office (From the 3-13 Lapeer County Press)
---
Senator Patrick Colbeck was our guest for our January General Meeting
We discussed a wide range of topics including Medicaid Expansion. Click the link above to view the meeting in its entirety.
---
Want to watch other meeting videos?
Missed a meeting and would like to see more?? Go to our You Tube Channel for all of our past meetings.
Lapeer Tea Party You Tube Channel
Tune in to our meetings live online!
LAPEER COUNTY TEA PARTY USTREAM CHANNEL
---
Lapeer Patriot Blog Posts
Blame Obama, not Tea Party members
Obervations From Europe by John Lengemann
There is a difference between news reporting, and editorializing the news.
Conservative policies at the state level by: Bill Thomas
Hadley says no to gas line (From the 9-14 County Press)
---
Are you registered to vote??
Click AreYouRegistered.org and find out..
_______________________________________________________________________________
Andrew Breitbart's final words from the AFP Event in Michigan a few days before he died.
_______________________________________________________________________________
The policy of the Lapeer County Tea Party Patriots is to allow only candidates, not representatives of candidates, to speak at our meetings. Candidates will be requested to speak by agreement of the Directors in support on their stated goal of membership education. Those races and issues that are requested remain the prerogative of the Directors concerning topical subjects or candidacy. It is not felt that a representative of a candidate can relate the direct position of the person they represent and that the candidate be held directly responsible for their stated position. _______________________________________________________________________________
Mission Statement and Purpose:
The mission of the Lapeer County Tea Party Patriots is to engage citizens
and provide avenues for participation in the political process. Our goals
are to prevent wasteful spending of tax dollars, to reduce the size of
government and its bureaucracies, and to hold accountable those we elect to
represent us. This will be accomplished by attracting, informing, and
mobilizing all who share these goals, regardless of political affiliation.
This site developed and maintained by