Support our efforts at the Lapeer County Tea Party Patriots
Contribute today!

_____________________________________
PHONE: (810)417-1559
---
Tell Congress what YOU think!!! Go to Popvox.com HERE!
---
_____________________________________
Upcoming Lapeer Tea Party Events: Lapeer County Commissioners

Please join us Tuesday, July 3rd as we meet with our Lapeer County Commissioners. We will be dicsussing a number of issues including the proposed county road tax (millage).
Our General Meetings are at Maple Grove Church on the 1st Tuesday of the Month
148 Maple Grove Road
Lapeer, MI
General Meeting
Our Monthly General Meetings are at:
Maple Grove Church, 148 Maple Grove Rd, Lapeer Michigan
Our Meetings begin promptly at 7PM.
---
Our next Business Meeting Thursday, June 26th, 2014 at 7PM at The Lapeer County Sportsman's Club is located at 1213 North Lake George Road, Attica, MI 48412
_________________
Policy for addressing our General meetings:
If you would like to appear, present or hand out information at any of our meetings (General), we must have 30 days notice, detail of the request and it further must be approved by the Directors in advance. This applies to all candidates, issues, and causes.
_____________________________
Legislative Representative
OFFICE HOURS...
Rep. Kevin Daley, R-Lum, will host June office hours in conjunction with local farmers market.
The office hours will be on Wed., June 18 from 9:30- 11:30 a.m. at the Faith Christian Fellowship Church, 69 Nepessing Road, Lapeer.
"I look forward to the opportunity to meet with constituents and talk about topics of interest," Daley said. "The farmers market also taking place during my office hours is an excellent chance for residents to enjoy the farm-grown produce from the area."
No appointment is necessary. Residents unable to meet during the scheduled office hours are invited to call Daley at his Lansing office, 1-517-373-1800, or e-mail KevinDaley@house.mi.gov.
Any establishment in Lapeer County interested in hosting coffee hours with Rep. Daley should contact Kris Johnson in Rep. Daley's office at 1-517-373-1800.
---
Latest News and updates from Sec. of State Ruth Johnson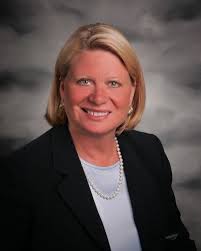 _________________
NEW PAGE -"On The Record" This weeks votes by our Representatives in Lansing
See how our Representatives voted in Lansing this week and what it means for us in Lapeer County
---
Lapeer County Tea Party Patriots Interactive web site
---
Lapeer County GOP meetings are held at the Mayfield Township Hall on the 3rd Thursday of the month at 7:00 pm. All are invited and welcome to attend.
______________________________
New Scholarship Available For Lapeer County High School Seniors and Post Secondary students that are residents of Lapeer County and attending colleges or trade schools!!
Because of our members generous and continued support, we are pleased to announce the start of our Danette Lowery Scholarship Award. This has long been a dream that we have had to be able to help our youth in a meaningful way as they grow into adulthood and become the leaders of tomorrow. Please click the link below for more information and to learn how you can help support this scholarship program.
We wish to congratulate Neil Gupton , this years winner of the Danette Lowery Scholarship award!
Please take a look at our 2014 Tea Party Scholarship Page for more information!!
Danette Lowery Scholarship Page
________________________________
Events from across the Michigan
________________________________
Lapeer County Tea Party Patriots
Keeping the Grass Roots Growing!
NOT REPUBLICAN

/

NOT DEMOCRAT
*********AMERICAN*********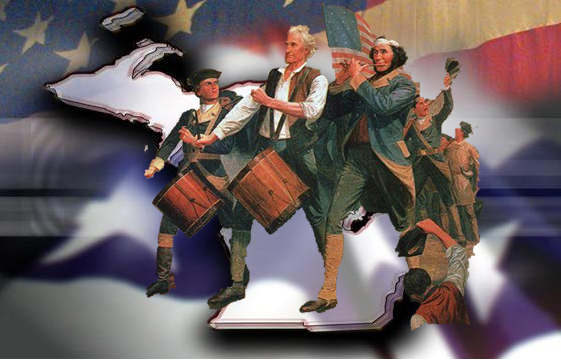 Member of the 1st Michigan Tea Party Alliance

Hot off the press!!

Our LCTPP 2014 Primary Voters guide is now available.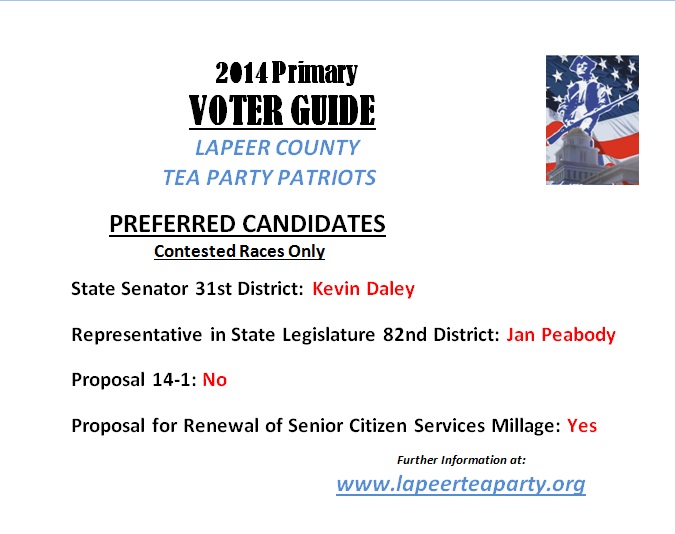 ---
Lapeer Tea Party General Meeting 7-1-14
County Commissioner Forum
---
Recently, our fellow Patriots in "We the People of Mid Michigan" held a candidate forum featuring Rep. Kevin Daley and Sen. Mike Green. We recorded the event to aid voters in their research of the candidates. There were great questions asked and this is a great way to see where these candidates stand on issues. Click the link below to watch it in its entirety.
---
RECENT NEWS ITEMS
Southern border immigration crisis comes to tiny Michigan town
Demonstrators at Vassar meeting about immigrant teens chant, share 'germs' concerns...
Illegals to get lawyers, schools and healthcare...
Click HERE for Candidate Filings for August 5th 2014 Primary
90,000 to cross by end of summer...
---
View our 82nd District Representative Forum below or click on the link below
Watch our 31st Senate District Candidate forum in its entirety.
Candidates Keving Daley, Mike Green, and Jeff Phillips answer questions.
Want to watch other meeting videos?
Missed a meeting and would like to see more?? Go to our You Tube Channel for all of our past meetings.
Lapeer Tea Party You Tube Channel
Tune in to our meetings live online!
LAPEER COUNTY TEA PARTY USTREAM CHANNEL
---
Lapeer Patriot Blog Posts
Put The Brakes on Common Core by Terry Martin
"HOW LONG WILL THEY SUPPORT HIM" by Terry Ann Jones
A TREATY THAT'S BAD FOR AMERICA by Terry Martin
To The Editor: By John L. Lengemann
Protecting our First Amendment Rights by Terry Martin
A Common Core Education by Roger Harris
---
Are you registered to vote??
Click AreYouRegistered.org and find out..
_______________________________________________________________________________
Andrew Breitbart's final words from the AFP Event in Michigan a few days before he died.
_______________________________________________________________________________
The policy of the Lapeer County Tea Party Patriots is to allow only candidates, not representatives of candidates, to speak at our meetings. Candidates will be requested to speak by agreement of the Directors in support on their stated goal of membership education. Those races and issues that are requested remain the prerogative of the Directors concerning topical subjects or candidacy. It is not felt that a representative of a candidate can relate the direct position of the person they represent and that the candidate be held directly responsible for their stated position. _______________________________________________________________________________
Mission Statement and Purpose:
The mission of the Lapeer County Tea Party Patriots is to engage citizens
and provide avenues for participation in the political process. Our goals
are to prevent wasteful spending of tax dollars, to reduce the size of
government and its bureaucracies, and to hold accountable those we elect to
represent us. This will be accomplished by attracting, informing, and
mobilizing all who share these goals, regardless of political affiliation.
This site developed and maintained by