5-17-2011 Forum from the Mackinac Center on Myths in Education Funding
Stream Michigan – Motor City Harley
With so many of our schools reducing staff, and cutting services, it is important that parents and taxpayers get ALL the information that is available about the finances of their districts. With 85 to 90 percent of a school districts costs being wages, salaries, and benefits, knowing where your district stands is more important then ever. We are adding links to help provide this information for all the districts in Michigan. Please look up the district which you live in and make sure that your district is using the available resources in the best way possible.
Michigan Foundation Grants by district: See how much your district gets from the state for each student
Michigan Individual School District Maps - See where the boundaries are for your school district.
Michigan School District Rainy Day Fund Balance - See how much money your district has left in the bank for that rainy day.
M.E.A.P. and M.M.E test scores - Michigan Test results from the Michigan Department of Education results for Michigan schools.
Michigan School District Collective Bargaining agreements - Use this site to look up your schools contracts with its employees unions. Teachers, Administrators, Maintenance, Transportation contracts are all listed here.
District Health Insurance costs - See your districts health insurance packages and see if it makes sense in your district. NOTE - This table does not reflect the 13% increase in MESSA in 2010 so you would need to add it in for a more accurate figure.
Michigan School District Revenue and Expenditure Report - This report presents revenue and expenditure data for Michigan public school districts as reported by the Michigan Department of Education in the annual National Public Education Finance Survey.
Michigan Public High School Context and Performance Database: This searchable and sortable database enables users to compare the performance of 678 public high schools within districts, counties, locales and the entire state. Statistics for each high school include locale type, enrollment, percentage of students who qualify for a free or reduced-price lunch, graduation rate, ACT test score and Michigan Merit Exam scores.
The teacher salary averages are published in MDE's "Bulletin 1014" report, which divides the total amount paid in salary to all teachers in the state by the number of teachers. Please be aware that this was recently updated because of an error in the original report and had been substantially underestimated.This lists all districts in Michigan. See where your districts teachers are ranked. The most recent year is the school year 2008-2009.
Hold Harmless School Districts - These are school districts that are wealthier districts that because of loopholes in how Proposal A was written, are allowed to levy taxes to help pay for operational costs within their districts. Only about 6% of Mikchigan school districts are allowed to do this. They are funded at a much higher per student rate than the majority of school districts in Michigan. See how your district compares.
Look for the following symbol on your local school web site! Recent changes in the Michigan School Aid Law now make it mandatory that school districts post the following information on their school web sites: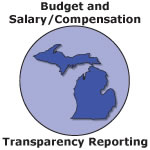 Section 18 (2) of the Public Act 94 of 1979, The State School Aid Act, has been amended, which requires each school district and intermediate school district to post certain information on its web site within 30 days after a board adopts it annual operating budget or any subsequent revision to that budget. The Annual Budget & Transparency Reporting is an opportunity to communicate our community on how we utilize the resources that are provided to us.

The following information is required to be posted on our web site:
The annual operating budget and subsequent budget revisions.
Using data that has already been collected and submitted to the Michigan Department of Education (MDE), a summary of district or intermediate district expenditures for the most recent fiscal year for which they are available, expressed in the following two (2) pie charts which were provided for the general fund of the district or intermediate district by the Center for Educational Performance and Information (CEPI):
(a) A chart of personnel expenditures broken down into the following subcategories:
(1) Salaries and Wages
(2) Employee benefit costs, including, but not limited to, medical, dental, vision, life, disability, and long term care benefits.
(3) Retirement benefits costs
(4) All other personnel costs
(b) A chart of all district expenditures, broken into the following subcategories:
(1) Instruction
(2) Support Services
(3) Business and administration
(4) Operations and Maintenance

3. Links to all of the following:
(a) The current collective bargaining agreement for each bargaining unit
(b) Each health care benefits plan, including, but not limited to, medical, dental, vision, disability, long-term care, or any other type of benefits that would constitute health care services, offered to any bargaining unit or employee in the district
(c) The audit report of the audit conducted for the most recent fiscal year for which it is available.

4. The total salary and a description and cost of each fringe benefit included in the compensation package for the superintendent of the district or intermediate district and for each employee of the district whose salary exceeds $100,000

5. The annual amount spent on dues paid to associations

6. The annual amount spent on lobbying services
___________________________________________________________________________________________
Lapeer County Prosecutor Byron Konschuh offers A frank Warning for Parents
Missed a local board meeting? Some Lapeer County School districts are making their meetings available online. Below are the districts that offer this service:
Lapeer Community Schools Board Meetings
Here is the USDA Economic Research Service Data on household income for comparison by Michigan county - Median HOUSEHOLD Income (2009 Most recent)
Here are the average teacher salaries for Schools Districts serving Lapeer County
Lapeer Community Schools - $62,551 per year
Almont Community Schools - $59,169 per year
Dryden Community Schools - $63,497 per year
Imlay City Community Schools - $56,837 per year
North Branch Area Schools - $61,933 per year
Lakeville Community Schools - $56,618 per year